Rwanda's Best
8 Days and 7 Nights experiencing Rwanda's best – Gorillas, Chimpanzees, Lake Kivu, and Africa's Big 5
Highlights
– Hike to rare mountain gorilla groups in Volcanoes National Park
– Visit endangered Golden Monkeys in their natural habitat
– Attend a performance by traditional Intore dancers
– Trek to Chimpanzees in beautiful Nyungwe National Park
– Visit a tea plantation and tour the fields
– Relax along idyllic Lake Kivu
– Spot the Big 5 on a safari game drive in Akagera National Park
– Enjoy a scenic sunset boat ride on Lake Ihema
Primate and Safari Adventure Itinerary
Day 1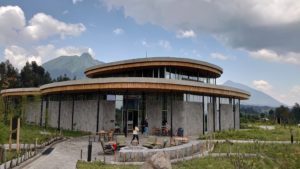 Kigali to volcanoes National Park
Your guide will meet you in Kigali and drive you 2 hours to Kinigi which is located at the base of Volcanoes National Park.
During the afternoon you have the opportunity to visit the newly built Ellen DeGeneres Campus of the Dian Fossey Gorilla Fund where you can learn more about endangered mountain gorillas and their habitats, walk interpretive trails, and even read Dian Fossey's original letters written in her research station.
You will overnight in a beautiful lodge just outside park headquarters in Kinigi.
Day 2
gorilla trek
After a hearty breakfast and fresh cup of Rwandan coffee, you will go to Volcanoes National Park headquarters where you will be briefed by park rangers before setting out on your hike to a gorilla family. Rangers make a best effort to match you with a gorilla family that suits your level of fitness and preference. Several gorilla families are typically within 45 minutes walking from the trailhead.
Once you reach the gorilla family, you will have an hour to observe them in their natural habitat. The gorilla experience is nearly unimaginable as you walk among these majestic animals.
After your trek to the gorillas you will visit a cultural village in Kinigi and attend a traditional dance performance by Intore dancers. This "Dance of Heroes" is certain to delight with their brightly colored clothes and flowing white hairpieces.
You will overnight again at the same lodge in Kinigi.
Day 3
Golden Monkeys and Lake Kivu
In the morning, you have the opportunity to visit another endangered animal in Volcanoes National Park – the Golden Monkeys. This trek is typically 30 minutes from the start of the trailhead which takes you to bamboo forests where you can see the Golden Monkeys as they swing from branches and run right past you.
After lunch, you will depart and drive along Lake Kivu past coffee and tea plantations to southern Lake Kivu where you will relax along the shores and overnight before your trek to the chimpanzees in the morning.
Day 4
Chimpanzee Trek in Nyungwe
In Nyungwe you can make a thrilling trek to Rwanda's other awe inspiring primate – the chimpanzees. Nyungwe is uniquely rich in biodiversity so you can expect to see several primates and some of the 300+ species of birds. From Nyungwe, you will also visit Lake Kivu and the local tea plantation for a unique experience touring the fields and factory.
Day 5
Nyungwe to Nyanza
In the morning you will depart Nyungwe and drive 2-3 hours to Nyanza where you can visit the King's Palace and experience Rwandan traditions. Nyanza was once the capitol of the kingdom and had approximately 2000 inhabitants. You can walk through the reconstructed thatched royal residence and hear tales of battles and power struggles. You will also meet the keepers of the decorated, long-horned Inyambo cattle. These elegant cows played a key role in ceremonies, and are trained to follow the keeper and his songs.
Day 6
Nyanza to Akagera
You will depart Nyanza in the morning and drive to Akagera National Park. Akagera National Park is Central Africa's largest wetland and the last remaining refuge for savannah-adapted species in Rwanda.
You will have 2 nights and 2 days on safari with time for a sunset boat ride on peaceful Lake Ihema.
Day 7
Game Drives in Akagera
After breakfast, you will set off for your morning game drive. Mornings are an excellent time to spot the Big 5 before they take their naps during the hot afternoons. It is common to see elephants, zebras, numerous antelope, buffalo, and diverse bird species. With your knowledgeable guide and some luck you may be fortunate to see lions, rhinoceros, and leopards.
You can enjoy the afternoon by the pool with beautiful views of Lake Ihema.
Day 8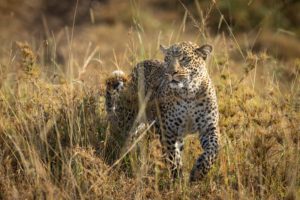 akagera game drive and back to kigali
The morning starts with a game drive to the north of Akagera National Park. You will have additional opportunities to spot big game and take more photos.
After the game drive you will continue on 2 hours to Kigali.
What's Included
7 nights in 3+ star luxury lodges/hotels
Breakfast, lunch, and dinner
Drivers, guides, and fully insured transportation
Gorilla trekking permit ($1500)
Golden Monkey visitation permit
All Akagera National Park visitation and game fees
Nyungwe National Park Chimpanzee trek fee
USD – $5899 1 person; $5199 per person for 2 or more people. Upgraded dining and accommodation can be arranged, as well as additional experiences such as additional hikes in Volcanoes National Park and Nyungwe National Park, and viewing the vast Akagera National Park by hot air balloon.
Destination Rwanda's Primate and Safari adventure includes the best of Rwanda's natural beauty and unforgettable cultural experiences.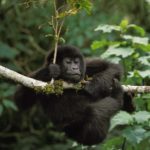 Primate and Safari Adventure